2018 décembre 14 : 2018 Sorigny Noel
A voir : La vidéo 2018 Sorigny Noel
See all videos / A voir toutes les vidéos sur YouTube / See Media.
---
2018 novembre 10 : Guy Fawkes à Sorigny
A voir La salle des fêtes déco :
Please click on a photo and automatically play the album or watch individual pictures.
Veuillez cliquer sur une photo et jouez l'album automatiquement ou regardez les photos individuellement.
 
2018 août planning : Forum des Associations, Les salles municipales, Guy Fawkes, Marché de Noel, Assemblé Générale
2018 Juillet : JOUR DE BASTILLE !!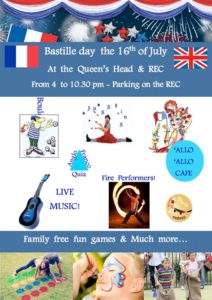 Box Comité de Jumelage veux vous montrer comment les Français fêtent cette formidable journée. C'est organisé par le Comité de Jumelage de Box en solidarité avec Sorigny.
2018 juin ; Tableaux pour '10 Doigts' exposition à Sorigny
A voir le document PDF 20180610_BoxParishMag_PicturesFor10Fingers (in English – pas traduit pour le moment).
A voir aussi Et la galerie Sorigny 10 Digits.
2018 mai : Sorigny & Box envahissent le Gower !
A voir le document PDF : Sorigny & Fort envahissent le Gower – Mai 2018 ! – FR.
et 201805 Trait d'Union Sorigny FR pour le Trait d'Union Sorignois de mai 2018 – FR
2018 avril : Nouvelle vidéo
Nouvelle vidéo : Part 1 2018 A la piscine / 2018 To the swimming pool.
2018 Trajet à la piscine pour les enfants de Sorigny.
Nouvelle vidéo : Part 2 2018 On arrive au 'Spadium' Arrival at the Spadium.
Fin Mars: Les Comptes 2017 et Compte Rendu 27/03/2018 (en anglais)
Cliquez les liens pour voir  :
Box Twinning Accounts 2017 signed et
Box Twinning Minutes 27th March 2018
2018 mars : Activités prévues pour 2018
Par ordre chronologique :
du 10 au 15 avril : Visite ( hors jumelage ) de Mike et Carole. Mercredi 11 avril RDV à l'accueil jeune et l'association des 10 doigts avec Mike.
le vendredi 20 avril : Réunion avec Mr Le Maire pour l'installation d'une piste de skittles.
du 4 au 7 mai : Weekend à Box et Paye de Galles pour les Sorignois.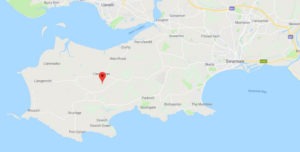 le dimanche 27 mai : Fête de l'Europe organisée par Artannes. Lieu retenu : le château de Saché. Celine a une réunion avec tous les comités le mardi 10 avril. Elle vous tiens informé. Vous pouvez dès à présent réserver votre dimanche pour ceux que ça intéresse. Attention c'est aussi la fête des mères.
le 23 et 24 juin : Expo des 10 doigts à la salle des fêtes. Une vingtaine de toiles arriveront de Box et seront exposées durant ce weekend à la salle des fêtes puis à la médiathèque. Nous prévoyons un 'Tea Time' durant les 2 jours de 14h30 à 17h30. Confection de gâteaux à prévoir.
le samedi 23 juin : Fête de la musique. Nous partagerons le sucré avec le comité des fêtes.
le 14 juillet : Stand sucré salé en partenariat avec le comité des fêtes.
le samedi 10 novembre : Guy Fawkes.
Note : La prochaine réunion pour organiser la fête de l'Europe et l'Expo de 10 doigts sera le mercredi, mai 16, à 20 heures, salle des anciens.
2018 février : Faux Amis / False Friends 2
A voir : une nouveau article avec les liens très utiles pour expliquer beaucoup plus les confusions entre les langues de francais et de l'anglais : https://sorigny-comitejumelage.com/2018/02/19/faux-amis-false-friends-2/.
2018 février : Panneaux pour Box Jumelage envoyé à Box de Sorigny
[Reçu 12 février 2018]
2018 Les lettres de la nouvelle année
Du Maire de Sorigny et John Whitford, Secrétaire d'Adhésion, Box. Cliquez les liens a voir.
2018 Sorigny Bulletin Esnault Letter FR image En Français
2018 Newsletter de Box CDJ FR En Français