Associations
33 sports, cultural and social associations are active within the municipality.
See the list: https://mairie-sorigny.com/?cat=56.
See also:
Album – Sorigny Tourism
Album l'Eglise Saint Pierre-aux-liens
The associations bring to life the community through organising numerous events throughout the year.
Annual events:

Theatre (notably with the 'Tréteaux Sorignois'[?], 'Drôles en Scène'[?]),
Telethon, Marché de Noël, Tourist rally, 'Sorigny Festival', Jumble Sale, Art Exhibition, Night-time March, Music Festival and so on

Timely demonstrations:

Country Rambles,
Concerts and so on.
Tourism in Sorigny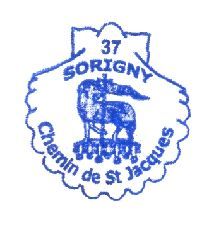 A famous pilgrimage route passes through Sorigny: the GR 655Est is called the 'Chemin de Saint Jacques de Compostelle' (The way to Saint Jacques de Compostello). A cross with bevelled edges is in the middle of the route which passes throughout the 'rue des écoles'.
The church Saint-Pierre-ès-Lien was reconstructedin 1866. From the primitive Roman church (built around 573), there is only the base of the bell tower. This contained a bronze bell from 1745 and enclosed the stained glass windows of the Lobin de Tours studio (end of the 19th century). See Download Description of the church St Pierre.
The monument to the war dead in the place de la Mairie, was conceived in 1923 by the sculptor Marcel Gaumont (Grand prix de Rome) and by the architect Maurice Boille.
To the north of the town centre in the area called La Métiverie, there is an old washing place fed by a water fountain.

The private Château de Longue-Plaine dates from the 19th century except for two towers from the 15th and 16th centuries. (http://www.longue-plaine.com/)
Stay over in Sorigny – It is the time to discover the Valley of the Indre, the Windmill Circuit, the beautiful manor houses and Châteaux of the Loire and the natural park of Loire Anjou Touraine.
To learn more see: