Why Box?
Initial Meeting with the villagers of Box
Meeting with the people of Box through the intermediary of the Twinning Committtee of Artannes (twinned with Bathford, (7 Km from Box).
2 November 2012 – A delegation from Sorigny visited Box for the first time.
December 2012 – The Box Twinning Group invited the Chairman of the Parish of Box to a meeting to discuss the possibility of twinning with Sorigny.
Où est Box ?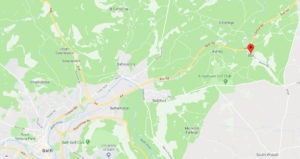 The Parish of Box in the county of Wiltshire covers an area of over 7 square miles and embraces several smaller communities including Ashley, Ditteridge, Kingsdown, Rudloe and Wadswick. It is located about 5 miles east of Bath & 6 miles west of Chippenham. The A4 road from London to Bath & Bristol passes right through the village.
See also:
Box Committee
Twinning Activities
Album of Box
Jumelage Video 2012-2015