Why are bottles of wine 75cl? / Pourquoi les bouteilles de vin font-elles 75cl ?
Why are bottles of wine 75cl?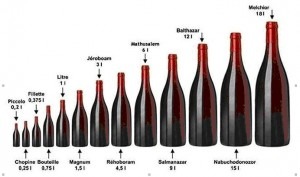 Bottles of wine are 75 centilitres and not a litre. Where does this exception come from? The
contents of a bottle of wine was standardised in the 19th Century and since then many mad
theories have been devised concerning this unique measure. For example:
The lung capacity of a glass-blower
The average consumption during a meal
A better method of conserving the wine
Ease of transport
The answer is none of these and even less French or European legislation. It simply concerns a
historical and practical organisation. In this period the prncipal clients of French wine growers
were the English. But our neighbours never had the same system of measurement as us.
The main English unit called the 'Imperial Gallon' was equivalent to 4.54609 litres precisely. To
avoid the problem of conversion, Bordeaux wine was transported in barrels of 225 litres, being
approximately 50 gallons.
Further, 225 litres is equivalent to 300 bottles of 75 centilitres and 300 is an easier number to
use for calculations than 225.
Thus we have:
1 barrel, 50 gallons, 300 bottles
1 gallon is worth 6 bottles
That is why, even today, cases of wine are for the most part sold in 6 or 12 bottles.
There you are – and don't thank me, bt the time you have been drinking wine and Champagne,
you will have drunk the knowledge.
Pourquoi les bouteilles de vin font-elles 75cl ?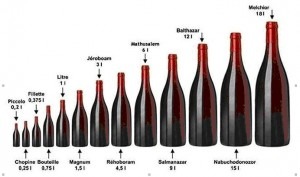 Les bouteilles de vin font 75 centilitres et non un litre.
D'où vient cette exception ? La contenance de la bouteille de vin a été standardisée au 19e siècle et depuis les théories les plus folles sont nées de cette mesure singulière. Cela correspondrait à :
• La capacité pulmonaire d'un souffleur de verre
• La consommation moyenne lors d'un repas
• Une meilleure façon de conserver le vin
• Une facilité de transport.
La réponse n'est dans aucune de ces théories, et encore moins dans la législation française ou européenne. Il s'agit simplement d'une organisation pratique et historique. A cette époque, les principaux clients des viticoles français étaient les Anglais. Mais nos voisins britanniques n'ont jamais eu le même système de mesure que nous.
Leur unité appelé « gallon impérial » valait précisément 4,54609 litres. Pour éviter un casse-tête dans la conversion, ils transportaient le Bordeaux en barriques de 225 litres, soit 50 gallons, en arrondissant.
Et 225 litres correspondent à 300 bouteilles de 75 centilitres. Ou 300 est un chiffre plus aisé pour faire des calculs que 225.
On avait donc :
1 barrique, 50 gallons, 300 bouteilles.
Ainsi un gallon valait 6 bouteilles.
C'est d'ailleurs pourquoi, aujourd'hui encore, les caisses de vin sont la plupart du temps vendues par 6 ou 12 bouteilles.
Voilà….et ne me remerciez pas car, depuis le temps que vous buvez du vin, et du champagne… vous auriez bu le savoir!