2021 Latest News / 2021 Les Nouvelles les plus récents
Correspondence & Local Journals
29/09/2021 Letter from Sorigny CDJ to Box Twinning Committee
Dear friends,
I hope you are in good shape and I sincerely hope to see you on video. Just a little email to inform you of our next project in association with the painting group Box Art Group.
We have just published an article in the local newspaper to invite Sorigny residents to participate in the painting exhibition organized by the Box Art Group association which will take place on November 20 and 21.
Corinne Burgain-Bertoïa is in contact with Brian. We will select the deposited canvases and send them to England. We can talk about it during our eye contact (on Zoom).
Our great common project must remain: the Franco-British association.
Here in a few lines.
While waiting to see us again the committee and I even kiss you,
Céline L'Huissier-Tudoce
Présidente, Comité de Jumelage, Sorigny
————————————————————————
30/09/2021 Reply from Box Twinning Committee to Sorigny CDJ
Dear Lili – it's very good to hear from you and know that Sorigny is getting back into its twinning activities with Box and the Art Group – well done!!
We're in the process of checking out which societies in Box might be interested in 'twinning' with those in Sorigny and we'll get back to you soon.
As for Zoom meeting in November our committee is yet to discuss and agree – again, I'll get back to you!!
So, for now, big hugs from all in Box and we're looking forwards to real hugs very soon!!
Mike Williams
Chairman, Box Twinning Committee
————————————————————————–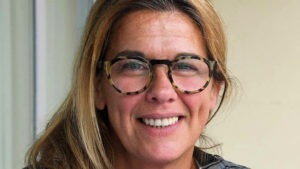 Céline Lhuissier-Tudoce invested in her mission as president of the twinning
The last general meeting of the Sorigny Twinning Committee demonstrated that the association was able to continue its activities despite the last two years disrupted by the pandemic. The morale reports, operating accounts and balance sheets for 2019-2020 and 2020-2021 were unanimously validated.
We can note new members to the board of directors and the departure of the office of the first president: Christine Colin-Desbourdes. After ten years of good and loyal service, Christine Colin-Desbourdes bows out but nevertheless remains a member of the Board of Directors.
In the program
English classes started on Monday September 27th. Every Monday from 7 p.m. to 8:15 p.m. at the village hall of Sorigny. There are still a few places left (contact Céline at 06.68.72.47.18).
For its fourth year, the « Guy Fawkes Night » will take place on Saturday 6 November at the Gilbert-Trottier space (village hall), the opportunity to meet around the traditional bonfire where it will be possible to taste English beers. mulled wine and some snacks. The start of the festivities will be given at 6.30 p.m. in the village hall.
CDJ Office. President, Céline Lhuissier-Tudoce; vice-president, Antoine Robin; secretary, Ingrid Declerck; treasurer, Corinne Burgain Bertoia; assistant, Stéphanie Robin.
See: L'article in French in le journal.
Local Journal