Le poème de Robert Burns pour Noel et la Nouvelle Année – les paroles /
The poem by Robert Burns for Christmas and New Year – the words
English (& Scottish)
Auld Lang Syne - a Christmas & New Year poem by Robert Burns
Français
Auld Lang Syne - un poème de Noel et la Nouvelle Année par Robert Burns

Traduction {Ce n'est qu'un au revoir}
Make it Snow !

Should auld acquaintance be forgot,
And never brought to mind?
Should auld acquaintance be forgot,
And auld lang syne?

For auld lang syne, my dear,
For auld lang syne,
We'll tak a cup o' kindness yet,
For auld lang syne.

And surely ye'll be your pint-stowp,
And surely I'll be mine!
And we'll tak a cup o' kindness yet,
For auld lang syne.

For auld lang syne, my dear,
For auld lang syne,
We'll tak a cup o' kindness yet,
For auld lang syne.

We twa hae run about the braes,
And pu'd the gowans fine;
But we've wandered mony a weary fit
Sin' auld lang syne.

For auld lang syne, my dear,
For auld lang syne,
We'll tak a cup o' kindness yet,
For auld lang syne.

We twa hae paidled i' the burn,
Frae morning sun till dine;
But seas between us braid hae roared
Sin' auld lang syne.

For auld lang syne, my dear,
For auld lang syne,
We'll tak a cup o' kindness yet,
For auld lang syne.

And there's a hand, my trusty fiere,
And gie's a hand o' thine!
And we'll tak a right guid-willie waught

For auld lang syne.

For auld lang syne, my dear,
For auld lang syne,
We'll tak a cup o' kindness yet,
For auld lang syne.
Faisez la neige !

Faut-il nous quitter sans espoir
Sans espoir de retour ?
Faut-il nous quitter sans espoir
De nous revoir un jour ?

Les jours du temps passé, ami
les jours du temps passé
Buvons ensemble à la tendresse
aux jours du temps passé

Nous avons voyagé tous deux
chaque jour d'un cœur léger
Tours et détours un long chemin
depuis le temps passé

Nous avons galéré tous deux
du lever au coucher
Océans nous ont séparés
depuis le temps passé

Voici ma main ami fidèle
donne ta main à l'amitié
Et nous boirons encore longtemps
aux jours du temps passé

Et tu offres le premier verre
et j'offre ma tournée
Buvons ensemble à la tendresse
aux jours du temps passé

A voir encore ce qu'on a utilise pour le petit vidéo de la fin de 2015 /
See again what we used for the little video at the endo of 2015 :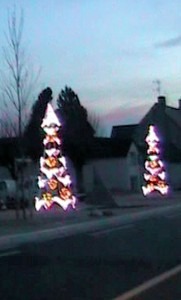 Good wishes to all friends in Box, Wiltshire, UK and in Sorigny, Region Centre 37250, France.
Meilleurs Vœux a tous nos amis de Box, Wiltshire, UK et a Sorigny, Région Centre 37250, France.
Meaning of Auld Lang Syne and Cup O' Kindness
English / Scottish
The Meaning of 'Auld' is « Old » and the meaning of 'Lang Syne ' is « Long Since ». The lyrics « We'll take a cup o' kindness yet » refers to the tradition of raising a glass, or a cup o' kindness meaning with « good will, friendship and kind regard » and in remembrance of « noble deeds ». The custom of drinking a « health » at a special gathering to the prosperity or good health of another dates back into antiquity. The old Christmas term 'Wassail' derives from Old Norse phrase 'ves heill' meaning « be healthy ». So next time you sing Auld Lang Syne you'll now know its meaning!
Français
'Auld' veut dire 'Vieux' et 'Lang Syne' veut dire 'Depuis Longtemps'. Les paroles 'We'll take a cup o' kindness yet' veut dire 'Nous prendrons une coupe de gentillesse' qui fait référence à la tradition de lever son verre et porter un toast, pour la bonne volonté, l'amitié et le bon regard' et pour rappeler les bonnes actions. L'habitude de dire 'Santé' à un événement est vraiment ancienne. Le vieux terme de Noel 'Wassail' vient d'une vieille phrase Norvegienne 'ves heill' qui veut dire 'A votre bonne santé'. Maintenant, vous savez !
See also / A voir aussi:
http://www.carols.org.uk/auld_lang_syne_song.htm
AND / Et
Dougie MacLean, OBE is a Scottish singer-songwriter, composer, multi-instrumentalist and record producer.
https://www.youtube.com/watch?v=acxnmaVTlZA