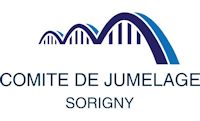 Why twin?
Why? – In the words of our friends in Box:
To promote and foster friendship, interactions and exchanges between the people of Box and the village of Sorigny, Indre-et-Loire, France or any other similar European location.
To encourage visits by families and groups and by so doing broaden the mutual understanding of the cultural, recreational, educational and other activities of the linked villages.
To try and stimulate a positive international outlook within the community of the Box area, including the Primary School, the Parish Council and other local organisations.
For more detail see Box, a village in the county of Wiltshire, England.
Year by year Bulletins & News
For Year by year Bulletins of the Sorigny Twinning Committee: 2011-2015, hover over the menu item of this page on the top (English) menu and select the year. Or click:
2011 Sorigny & Box,
2012 Sorigny & Box,
2013 Sorigny & Box,
2014 Sorigny & Box ou
2015 Sorigny & Box.

See also:
Album of Box.
Articles to read / Les articles à lire
Jumelage Video 2012-2015
http://www.boxparish.org.uk/