L'hiver 2020-21
Beauté unique de Box
Notre village se trouve dans la région de Cotswold d'une beauté naturelle exceptionnelle, comme le montre cette vue splendide de Box Valley à Lower Rudloe. Cependant, l'histoire de Box est beaucoup plus compliquée, comme indiqué dans le nouveau numéro du site Web.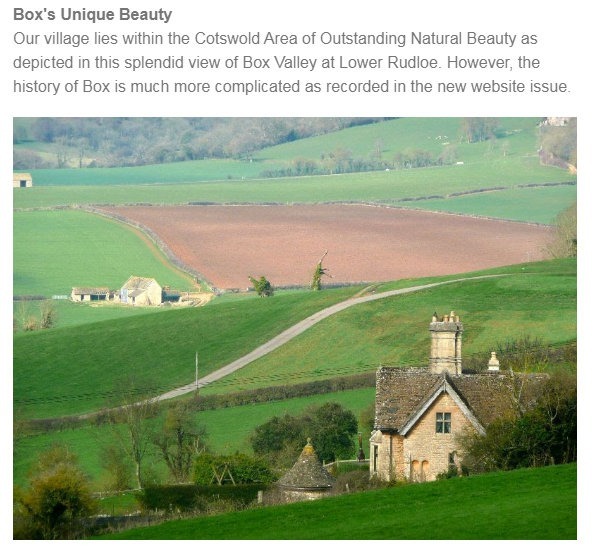 Mosaïques de la villa romaine
Under Box Recreation Ground se trouve l'une des plus grandes villas romaines de l'ouest de l'Angleterre. Deux des sols en mosaïque sont vus ici dans les années 1980, lorsqu'ils ont été sauvés de la destruction.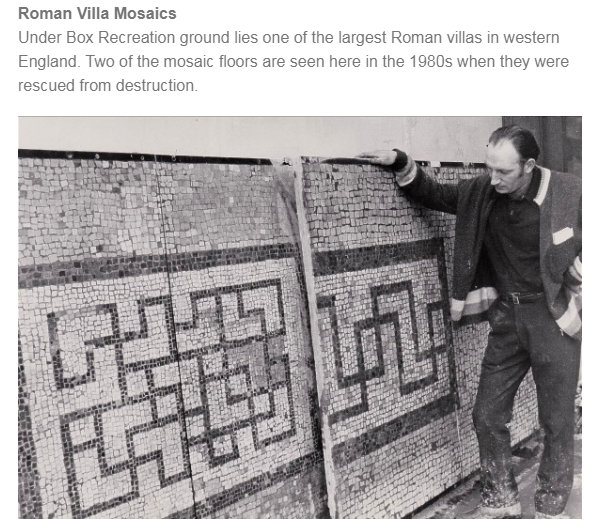 L'histoire de Box en deux photos
Les images ci-dessous présentent des aspects du village de Box – rural et industriel. On voit Bill Peter qui a fondé le Box Horse Show annuel (à gauche) et la grue de carrière de pierre à l'entrée de Clift Quarry Works, Box Hill (à droite).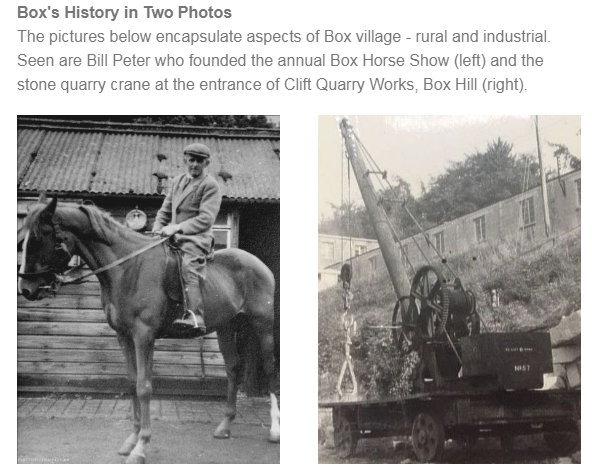 Il y a beaucoup plus sur ces histoires dans le nouveau numéro du site Web à www.boxpeopleandplaces.co.uk. Nous apprécions les commentaires, corrections et ajouts des lecteurs aux articles. Cordialement à tous. Alan et Carol
---
Numéro d'automne 29
Ce numéro comprend:
Box Fascist Movement – Fondateurs
Portraits de pierre
Thomas Gale, contremaître du tunnel à caissons
La famille Davey (médecins)
Et plus encore, par exemple, Deux ponts souterrains: ponts Brunel oubliés !
Le premier numéro de la nouvelle décennie est désormais disponible en ligne sur www.boxpeopleandplaces.co.uk

La famille Northey était Lords of the Manors of Box et Ashley depuis 250 ans, mais leur histoire dans notre région n'a jamais été entièrement racontée. Tout au long de 2020, nous publions des photos de leur mode de vie dans leurs fabuleuses maisons, au travail et en s'amusant. Sur la photo ci-dessus, la famille comprend le pionnier de Rolls-Royce, l'héritier qui a fait faillite et les femmes décédées dans le Bath Blitz.

Comment connaissez-vous bien Box ?
Le dernier numéro a causé une puanteur avec un article sur cette étrange pipe sur Quarry Hill. Maintenant, nous racontons l'histoire fascinante du tuyau d'égout qui a été classé monument historique, le seul connu dans le pays.

Où est-ce ?
Bien sûr, c'est le centre de Box car la flèche de Box Church est très distinctive. Mais les jardins en terrasses sont inhabituels, cultivés avec amour par le jardinier en chef et compatriote du nord, David Johnson. L'histoire complète de la flore, de la magnifique serre et de la source en cascade sur le site sont révélées dans notre nouvel article.