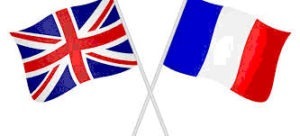 Box Twinning Zoom on Sorigny !
The first physical meeting, since February 2020, for Box Twinning was held in a garden to observe Covid security, fortunately the weather held up and the Committee was able to discuss plans for the remainder of 2021 and aspirations for 2022.
However, before the meeting started, we held a Zoom 'exchange' with all our friends in Sorigny who were huddled inside during a very heavy shower and thunderstorm.  They were all fit and well most getting through their vaccination programme whilst still suffering from Covid restrictions. It was difficult to plan visits either here or into France before travel restrictions came into force the Sorignois were due to visit Box in May 2020 and are still looking forward to picking that up next year. Meanwhile, travel restrictions permitting, a small Box group may visit Sorigny in November.
For the Box Committee plans will include a local Boules Competition with Corsham Twinning sometime in the Autumn, and a renewed effort to 'twin' associations in Box and Sorigny (a great example is Box Art Group where exhibitions are exchanged between the two villages), and the possibility of hiring a coach to take a group from Box to Sorigny. We plan to investigate the provision of French language tuition from Sorigny via Zoom with follow up visits to families in Sorigny.
The committee is keen to promote its objectives of fostering friendship, interactions, and exchanges between the two villages with visits by families particularly amongst youth groups, schools, churches, adult groups, and the Parish Council.
For more information contact Mike Williams– Mmikejwilliams@aol.com or any committee member.