2020 Latest News / 2020 Les Nouvelles les plus récents
Fred Sheppard
It is with great sadness we record the passing of the first President of the Box Twinning Committee Fred Sheppard. He was a qualified building engineer, had an extremely successful Army career spanning 35 years, completed multiple projects for Box Parish Council and was an energetic and first President facilitating the Twinning between Box in Wiltshire and Sorigny in the Valley of the Indre river. A true officer and a gentleman, he is greatly missed. To read his obituary & links to his life and career and tributes to hime see:
Obituary – French Sheppard (English version).
C'est avec une grande tristesse que nous enregistrons le décès du premier président du comité de jumelage de box Fred Sheppard. Ingénieur en bâtiment qualifié, il a mené une carrière extrêmement réussie dans l'armée pendant 35 ans, il a réalisé plusieurs projets pour le conseil de paroisse de Box et a été le premier Président énergique facilitant le jumelage entre Box dans le Wiltshire et Sorigny dans la vallée de l'Indre. Véritable officier et gentleman, il nous manque beaucoup. Pour lire sa notice nécrologique et ses liens avec sa vie et sa carrière et ses hommages, voir:
Obituaire – Fred Sheppard (version française)
NOTES:
2020 Sorigny VE Day : See three images
2020 Sorigny VE Day : A voir trois images
For earlier news of this year, see 2020 Sorigny & Box News
Pour les nouvelles plutôt cette année, à voir 2020 Sorigny & Box News
For links to all video playlists by year, see the Media page.
Pour des liens vers toutes les listes de lecture vidéo par année, consultez la page Media.
The Commune of Sorigny
The aim of this web site is to stimulate and maintain interest in the Twinning of Sorigny with similar European villages. This is supported through the elected members of the municipality and the Twinning Committee. We provide here information about the Committee, its activities in forging a twinning with an English village as well as a lot of information about Sorigny, its facilities, associations and local tourism.
Sorigny is now twinned with Box in Wiltshire and the photo below (click to enlarge) shows the Twinning Sign on entering Sorigny from the north on the D910.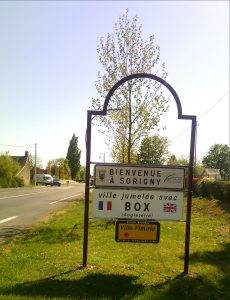 Where is Sorigny?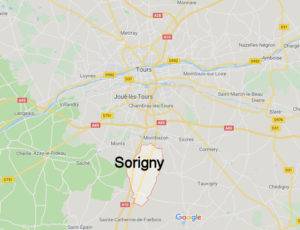 Sorigny is a small French village of the Indre & Loire Department in the heart of the Centre Region. People who live there are called the Sorignois (male) and the Sorignoises (female).
Situated on the main route from Paris – Tours – Bordeaux, Sorigny is only 20 km (12.5 miles) south of Tours and 240 km (149 miles) south west of Paris; 5 km (3 miles) south of Montbazon. See Media Downloads / Telechargements
Sorigny is close to the most beautiful chateaux of the Loire valley (including Amboise, Chenonceau, Villandry, Azay le rideau) and well-known wine producers such as Chinon, Mont Louis and Vouvray.
See all about the Twinning Activities, Sorigny & Box.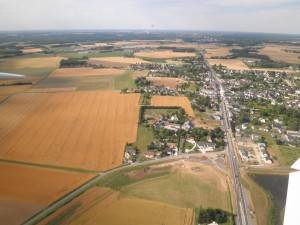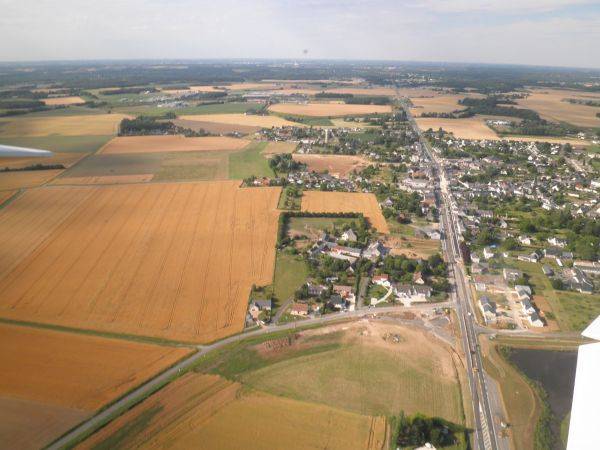 Sorigny: Aerial view towards the north