Latest News
Concerning a new 'Brand Village' in Sorigny (A new 'village' selling a range of famous brand names at discounted prices – while products are still à la Mode. See these two PDF documents which contain English & French versions of the text:
– Bientôt un village des marques à Sorigny FR & EN.pdf &
– Sorigny – Villages des Marques FR & EN.pdf
14 July Sorigny
16th July Box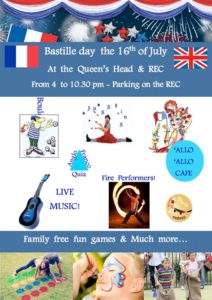 16th July in Box- BASTILLE DAY!! Box Twinning Comittee wishes to show how the French celebrate this wonderful day. It has been organised for the solidarity of Box & Sorigny.
See the paintings at the exhibition in  Sorigny 23-24 June 2018
See New Gallery of paintings shown in Sorigny 23-24 June 2018
See the PDF document 20180610_BoxParishMag_PicturesFor10Fingers (in English only).

See also 2018 Box & Sorigny and the new gallery Sorigny 10 Digits.
———————————————————————————————————————-
Planned Activities for 2018
In chronological order:
April 10th to 15th: Mike and Carole's visit (non-twinning) Wednesday, April 11 RDV at the Youth Reception and the 'Association of 10 fingers' with Mike.
Friday, April 20: Meeting with Mr Mayor for the installation of a skittles track.
May 4th to 7th: Weekend at Box and Wales for the Sorignois.
Sunday, May 27: Europe Day organized by Artannes. Place chosen: Chateau de Saché. Celine has a meeting with all committees on Tuesday, April 10 and will keep us informed. For those interested, you can now book your Sunday . Take Care: This is also Mother's Day.
The Sorigny Twinning Committee was present on the Europe Day at Artannes on Sunday 27 May 2018:
June 23 and 24: Exhibition of '10 fingers' in the village hall. About twenty paintings will arrive from Box and will be exhibited during this week in the village hall and at the media library. We are planning a Tea Time during the 2 days from 14h30 to 17h30. Planning cake-making too.
See the PDF document 20180610_BoxParishMag_PicturesFor10Fingers (in English only).
Saturday, June 23: Music festival. We will share the sweet with the festival committee.

Saturday, July 14: Sweet & Sour stand in partnership with the festival committee.

Saturday, November 10: Guy Fawkes.
———————————————————————-
The Commune of Sorigny
The aim of this web site is to stimulate and maintain interest in the Twinning of Sorigny with similar European villages. This is supported through the elected members of the municipality and the Twinning Committee. We provide here information about the Committee, its activities in forging a twinning with an English village as well as a lot of information about Sorigny, its facilities, associations and local tourism.
Sorigny is now twinned with Box in Wiltshire and the photo below (click to enlarge) shows the Twinning Sign on entering Sorigny from the north on the D910.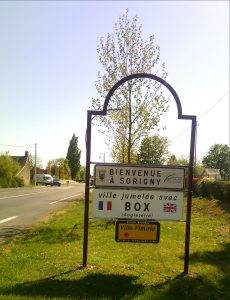 Sorigny is a small French village of the Indre & Loire Department in the heart of the Centre Region. People who live there are called the Sorignois (male) and the Sorignoises (female).
Situated on the main route from Paris – Tours – Bordeaux, Sorigny is only 20 km (12.5 miles) south of Tours and 240 km (149 miles) south west of Paris; 5 km (3 miles) south of Montbazon. See Media Downloads / Telechargements
Sorigny is close to the most beautiful chateaux of the Loire valley (including Amboise, Chenonceau, Villandry, Azay le rideau) and well-known wine producers such as Chinon, Mont Louis and Vouvray.
See all about the Twinning Activities, Sorigny & Box.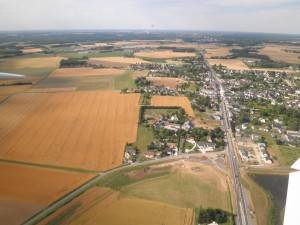 Sorigny: Aerial view towards the north