2020 Latest News / 2020 Les Nouvelles les plus récents
2020 August / autumn – Box People & Places
This issue 29 includes:
Box Fascist Movement – founders
Stone Portraits
Thomas Gale, Box Tunnel Foreman
The Davey Family (Doctors)
And more, for example, Two Box Underbridges: Forgotten Brunel Bridges !
Click for for more info.
2020 01 July / juillet
A new 'State of the Union document with details of the newly elected team at the Town Hall and a hommage to Fred Sheppard. Also includes details of the budget, a new park, dealing with Covid in the borough, a new hearing specialist and the rules concerning noise in our normally quiet village.
Un nouveau document sur l'état de l'Union avec les détails de l'équipe nouvellement élue à la mairie et un hommage à Fred Sheppard. Comprend également des détails sur le budget, un nouveau parc, traitant de Covid dans l'arrondissement, un nouveau spécialiste de l'audition et les règles concernant le bruit dans notre village normalement calme.
See / A voir :
2020 Juillet – Nouvelle Equipe Sorigny
And / Et 2020 07 Trait d'union-Hommage à Fred Sheppard
New video /Nouvelle vidéo, (en Anglais / in English) Fred Sheppard His Life & Career 1937-2020 (12 minutes)
NOTES:
For earlier news of this year, see 2020 Sorigny & Box News
Pour les nouvelles plutôt cette année, à voir 2020 Sorigny & Box News
For links to all video playlists by year, see the Media page.
Pour des liens vers toutes les listes de lecture vidéo par année, consultez la page Media.
The Commune of Sorigny
The aim of this web site is to stimulate and maintain interest in the Twinning of Sorigny with similar European villages. This is supported through the elected members of the municipality and the Twinning Committee. We provide here information about the Committee, its activities in forging a twinning with an English village as well as a lot of information about Sorigny, its facilities, associations and local tourism.
Sorigny is now twinned with Box in Wiltshire and the photo below (click to enlarge) shows the Twinning Sign on entering Sorigny from the north on the D910.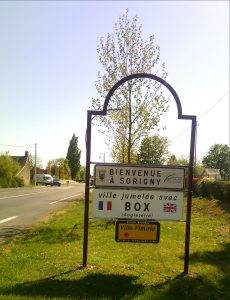 Where is Sorigny?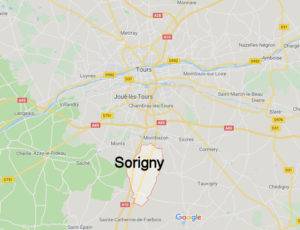 Sorigny is a small French village of the Indre & Loire Department in the heart of the Centre Region. People who live there are called the Sorignois (male) and the Sorignoises (female).
Situated on the main route from Paris – Tours – Bordeaux, Sorigny is only 20 km (12.5 miles) south of Tours and 240 km (149 miles) south west of Paris; 5 km (3 miles) south of Montbazon. See Media Downloads / Telechargements
Sorigny is close to the most beautiful chateaux of the Loire valley (including Amboise, Chenonceau, Villandry, Azay le rideau) and well-known wine producers such as Chinon, Mont Louis and Vouvray.
See all about the Twinning Activities, Sorigny & Box.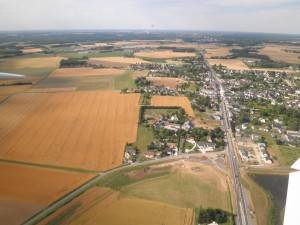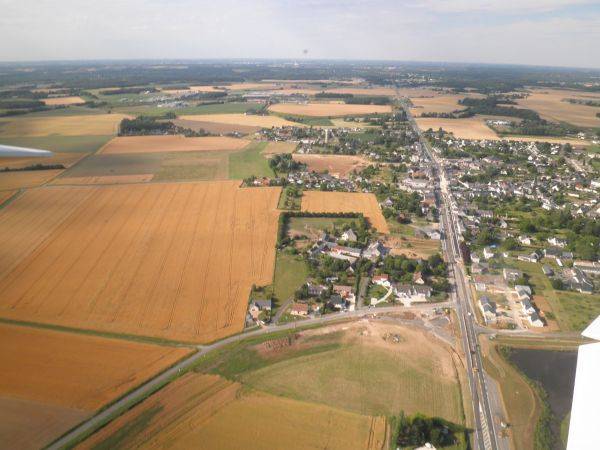 Sorigny: Aerial view towards the north