2023 News / 2023 Les Nouvelles
10 novembre 2023  Guy Fawkes : all setup in  La salle des fêtes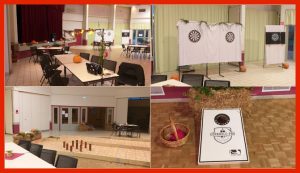 Food, drink, skittles, darts, cornhole and music, as well the bonfire at the end ! Nourriture, boisson, quilles, fléchettes, cornhole et musique, ainsi que le feu de joie à la fin !
—————————————————————————————————————–
The Day of Remembrance / La Journée de Souvenir
As ever :                      The eleventh hour, the eleventh day of the eleventh month, Sorigny pays homage to the fallen
Comme toujours :    La onzième heure, le onzième jour du onzième mois, Sorigny rend hommage aux morts
Click here for the 2023 Videos / Cliquez ici pour les vidéos 2023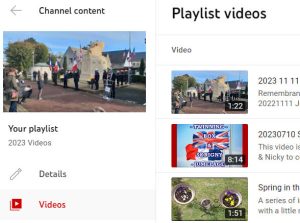 ———————————————————————————————————————–
Surprise 'Twin People' meeting / Réunion surprise des « personnes jumelles »
During summer 2023 we received a request from a school in Azay Rideau for a possible host for two French students to work, improve their spoken English and a place to stay. I contacted Sheila Parker in Box for her views and feedback. To our surprise and pleasure she replied that Annette could and would provide a workplace requiring spoken English and a place to stay.

Following the very sad and unexpected death of her husband, the place to stay became unavailable. However, her good friends, the Krikorians, who had met the Sorigny delegates to Box during June 2023, very kindly offered to provide accommodation for the required three weeks.

Fast forward to last week when I learned of administrative issues concerning the school and the permission to place the students in England. Following direct contact with the Krikorians, I learned they were staying in Brittany and they proposed to come to Sorigny and meet with the Comité de Jumelage (CDJ) and our administrative contact Delphine.

All was quickly arranged, the Krikorians arrived on Wednesday, apparently for a superb lunch, then an evening aperitif / meal at the kind hosts of Chantal & Bernard Bougrier-Lemesle. We all provided something for the evening making it a splendid « dinatoire ». It was a great shame therefore to learn from Delphine that the work placement and stay in England was in fact cancelled, at least in part because of the need for longer notice required to organise insurance and other administrative issues.

The following day, Ara Krikorian provided me with an Internet link to the photos he had taken or received and asked me to distribute them to all concerned. I have provided the link here: Here is the link: https://photos.app.goo.gl/VuVxZLrwKE8F2Qdb7 

I am sure you will agree that despite the unfortunate ending, this illustrates the strong bonds and sincere friendship that can be built between the peoples of the two towns and countries, assisted by our Twinning.
To read this article in French see  Sorigny & Box website Home page
—————————————————————————————————
Box People & Places
Another addition to the amazingly detailed histories of Box people & places – see the PDF :                        Box People and Places New Issue – Alan & Carol Payne
Un autre ajout aux histoires incroyablement détaillées des personnes et des lieux de Box – voir le PDF :  Box People and Places New Issue – Alan & Carol Payne
Visitez la source / Visit the source http://www.boxpeopleandplaces.co.uk/
—————————————————————————————————-
Earlier News
The earlier news of April – May 2023 is still available in English at 2023 Sorigny & Box News (EN) 
L'actualité plutôt d'avril – mai 2023 est toujours disponible en français sur 2023 Sorigny & Box News (FR)
The News from April – May are available at 2023 Sorigny & Box News (EN) /  Les nouvelles plutôt d'avril – mai sont disponibles a 2023 Sorigny & Box News (FR)
——————————————————————————————————-
June to October 2023
A lot of activity has happened in Sorigny during the summer and autumn. In brief, these are the main events:
2023 06 16 Tea Time & English Games / Jeux Anglais
2023 06 17 The Market Hall / Marché de la Halle
2023 06 21 Festival of Music / Fête de la musique
2023 06 29 l'Indre Valley Music School / Ecole de Musique du Val de l'Indre
2023 06 23-26 Visit in June by Sorigny people to Box / Visite en juin des Sorigny à Box
2023 07 14 National Festival of France / COMMEMORATION – 14 Juillet, jour de Fête Nationale
2023 08 21 Evening Market / Marché Nocturne
2023 09 01 Box People & Places Issue 41 / Les nouvelles de 'Box People & Places'
2023 09 13 Publicity for English classes in September 2023 / Publicité pour les cours d'anglais en septembre 2023
2023 09 17 Heritage Days in France (free entry to public buildings, including Châteaux, Museums etc) / Journées Européennes du Patrimoine 
To view three galleries about the main events, click on 2023 Sorigny & Box News (EN&FR) – June / October
___________________________________________________________________________________________________________________________________________________________________________
Sorigny June visit to Box
This video is an abridged version of the original by Ara & Nicky to celebrate the visit of people from Sorigny who visited their Twin Town of Box in Wiltshire, England in June 2023. It shows the great friendships that have been built up since 2011 and the various super parts of the west country they visited together. Also included is a visit to the tombs of two of the founders, Michael & Carole Williams of Box.
The chosen music unfortunately broke the normal copyright rules so the offending music has been replaced by music without the copyright issue.
The replacement music includes Silky by Alex Figueira – copyright with permission &
It Came Upon a Midnight Clear by Kevin MacLeod –
License: http://creativecommons.org/licenses/by/4.0/
National Anthem of France (27secs)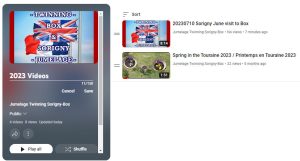 ____________________________________________________________________________________________________________________________________________________________________________
The Commune of Sorigny
The aim of this web site is to stimulate and maintain interest in the Twinning of Sorigny with similar European villages. This is supported through the elected members of the municipality and the Twinning Committee. We provide here information about the Committee, its activities in forging a twinning with an English village as well as a lot of information about Sorigny, its facilities, associations and local tourism.
Sorigny is now twinned with Box in Wiltshire and the photo below (click to enlarge) shows the Twinning Sign on entering Sorigny from the north on the D910.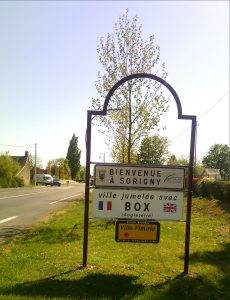 Where is Sorigny?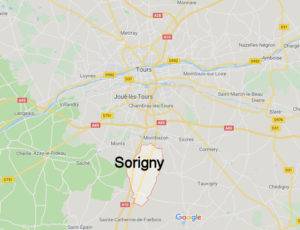 Sorigny is a small French village of the Indre & Loire Department in the heart of the Centre Region. People who live there are called the Sorignois (male) and the Sorignoises (female).
The Indre & Loire is a Community within the Touraine Valley. See the gallery which explains the organisation structure of the 'Touraine Vallee de l'Indre'.
Situated on the main route from Paris – Tours – Bordeaux, Sorigny is only 20 km (12.5 miles) south of Tours and 240 km (149 miles) south west of Paris; 5 km (3 miles) south of Montbazon. See Media Downloads / Telechargements
Sorigny is close to the most beautiful chateaux of the Loire valley (including Amboise, Chenonceau, Villandry, Azay le rideau) and well-known wine producers such as Chinon, Mont Louis and Vouvray.
See all about the Twinning Activities, Sorigny & Box.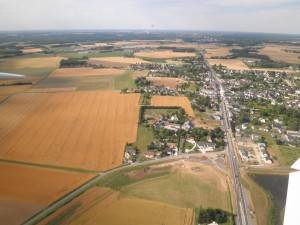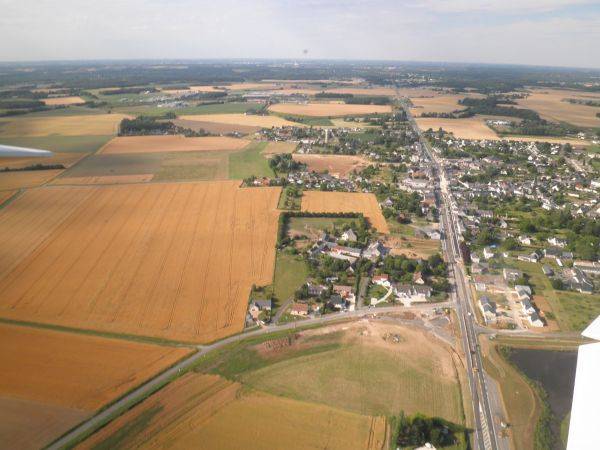 Sorigny: Aerial view towards the north