2021 Latest News / 2021 Les Nouvelles les plus récents
Sorigny – New developments / Nouveaux développements
There are a lot of new developments in Sorigny and new works in progress:
Renewable Energy
New companies in Sorigny:
Alliance Healthcare
DAIRE Transports
O'Local
A l'escale Sorignois
Work in Progress
The Halle
Two new buildings in the town centre
The Home of Nursery Assistants
The 'Routier' center
See / A voir : https://sorigny-comitejumelage.com/welcome/municipality/2021-new-developments/ 
Box People & Places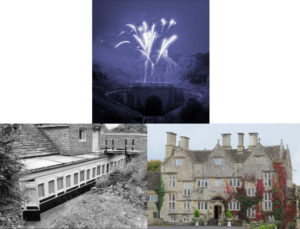 Fireworks at Box Tunnel, 1991
The Great Western Railway celebrated Box Tunnel's 150th anniversary with fireworks and a community play.
Dream Home
Thinking of moving but can't find the right place? Solicitor William Sparrow decided to live in a railway carriage called The Retreat in Box in the 1930s. Original photos of life there.
Mysterious History of Cheney Court
For something older, look at Cheney Court. Named after Sir Edmund Cheney in 1400s, the Grade II* listed house was restored by lords of the manor, Spekes and Northeys before conversion into TV studio and language school.
See / A voir : http://www.boxpeopleandplaces.co.uk/
——————————————————————————————————-
NOTES:
See: Progrès des éoliennes / Progress of the wind turbines 1866 – 2025 ?
A voir : Progrès des éoliennes / Progress of the wind turbines 1866 – 2025 ?
For earlier news of last year, see 2020 Sorigny & Box News
Pour les nouvelles de l'année passée, à voir 2020 Sorigny & Box News
For links to all video playlists by year, see the Media page.
Pour des liens vers toutes les listes de lecture vidéo par année, consultez la page Media.
————————————————————————————————
The Commune of Sorigny
The aim of this web site is to stimulate and maintain interest in the Twinning of Sorigny with similar European villages. This is supported through the elected members of the municipality and the Twinning Committee. We provide here information about the Committee, its activities in forging a twinning with an English village as well as a lot of information about Sorigny, its facilities, associations and local tourism.
Sorigny is now twinned with Box in Wiltshire and the photo below (click to enlarge) shows the Twinning Sign on entering Sorigny from the north on the D910.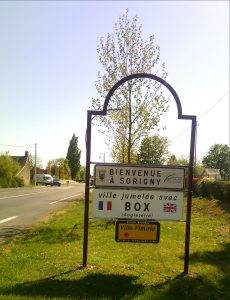 Where is Sorigny?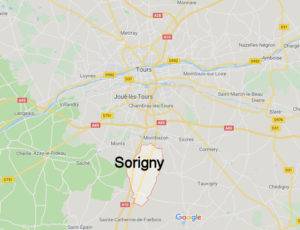 Sorigny is a small French village of the Indre & Loire Department in the heart of the Centre Region. People who live there are called the Sorignois (male) and the Sorignoises (female).
The Indre & Loire is a Community within the Touraine Valley. See the gallery which explains the organisation structure of the 'Touraine Vallee de l'Indre'.
Situated on the main route from Paris – Tours – Bordeaux, Sorigny is only 20 km (12.5 miles) south of Tours and 240 km (149 miles) south west of Paris; 5 km (3 miles) south of Montbazon. See Media Downloads / Telechargements
Sorigny is close to the most beautiful chateaux of the Loire valley (including Amboise, Chenonceau, Villandry, Azay le rideau) and well-known wine producers such as Chinon, Mont Louis and Vouvray.
See all about the Twinning Activities, Sorigny & Box.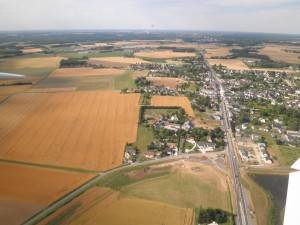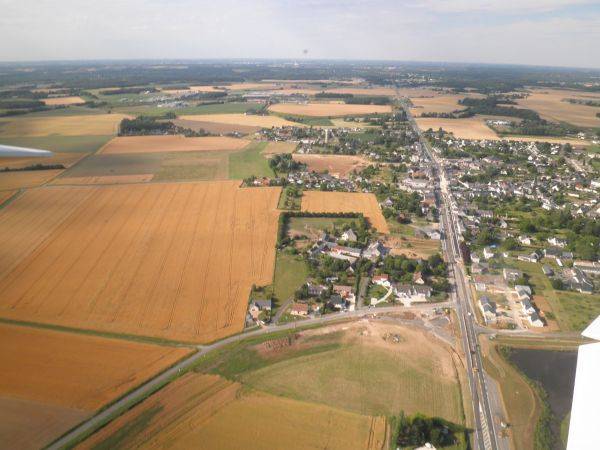 Sorigny: Aerial view towards the north