24th April 1937 – 27th March 2020
See also: 2020 07 28 Fred Sheppard life & Career (English) V2 (updated) and Tributes to Fred Sheppard (English)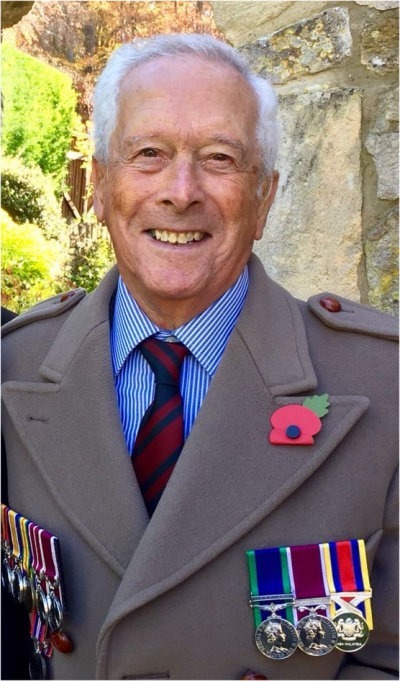 As the youngest of three brothers, Fred was born into a family with strong military traditions in 1937. His father was in the army, having served in the Boer War and First World War while his two brothers both served in the RAF. His mother came from Silkstone in Yorkshire. He spent his childhood living in Colerne, a small village across the valley from Box, in the picturesque countryside of Wiltshire.
Fred loved outdoor life and was a keen cub and scout, as well as an accomplished sportsman playing school rugby, hockey, athletics and gymnastics. It was while at school in Box that he met his future wife, Jean Barnett. After sitting his 'O' levels in 1954 Fred wanted to go to Agricultural College but his father decided that there was no future in farming. So, taking an apprenticeship with a local Colerne builder he received a sound training and practical experience in the building trades. Four days before his 20th birthday, on 20th April 1957, Fred and Jean were married at a memorable 'white wedding' and full reception at The Vineyard, Colerne.
Receiving his call-up papers for National Service in 1958 Fred decided to enlist as a Regular soldier. He followed his father's footsteps by joining the Royal Engineers, initially for nine years. However, this developed into a very eventful and distinguished Army career spanning 35 years. His basic Army training at Aldershot was followed by a posting to the Royal School of Military Engineering in Chatham , where he very quickly passed his Clerk of Works course, gaining him an immediate promotion to Staff Sergeant and a posting to Thetford, Norfolk. Further academic success came as he passed his HNC in building while studying at Cambridge. Fred and Jean went on to bring up a family of four children: Adrian (1959), Steven (1960), Anne (1963) and Diane (1965).
Fred's first posting abroad came in 1965 when was he sent to Borneo at the time of the troubles there, to build camps in the jungles of Sarawak. In 1966 his family joined him in Singapore for three wonderful years where he supervised numerous military projects across Singapore and Malaya. The family returned to Waterbeach, Cambridgeshire in 1969 whereupon Fred was posted out to Oman and the UAE where he supervised the construction of numerous road and bridge projects in very hot desert conditions.
Subsequent accompanied family postings to Belgium (1971) and Gibraltar (1973) were followed by the return to UK. His role at Barton Stacey, Hampshire in 1975 resulted in Fred being commissioned as an army officer in 1976 and spending two years at Sutton Coldfield. Promoted to Captain in 1978, Fred was appointed the Garrison Engineer at Tidworth, Hampshire. Two more unaccompanied tours followed very soon after, to RAF Brüggen, Germany and Belize, Central America once again supervising numerous military construction projects.
Fred and Jean were rewarded with an accompanied three-year posting to Nepal in 1982 where Fred spent some wonderful times working closely with the Ghurkas, maintaining their camps and training facilities and then back to Germany in 1986, via a 6 month unaccompanied posting to The Falklands, where he was promoted to the rank of Lieutenant Colonel to command a Mobile Civilian Artisan Group carrying out construction projects for the army as well as local German organisations. Fred's final military posting came in 1989 when he was given responsibility for the design and safety of the Armed Forces firing ranges around the world. Fred retired from the Army in 1993 only to be appointed, almost immediately as the Surveyor of Works at The Royal Hospital, Chelsea.
1998 finally did bring permanent retirement for Fred, but from 2000 there were numerous voluntary roles on Box Parish Council and as a Governor to Box Highlands Primary School that meant work did not stop: for example, managing the £350,000 Box Village Recreation Ground & Pavilion Project.
In 2010 he took on the role of President of the Box Twinning Association overseeing the Committee as close ties were developed with Sorigny in the Centre-Val de Loire department in central France. Gaining agreement from UK and French administrations took time, but with Fred's and the two Committees' determination, the twinning Ceremonies in Box and Sorigny were completed in 2016-7 in friendship, good humour and mutual respect.
He always committed himself 100% to any role he undertook, no matter how large or small, or how straight forward or complex but increasingly he devoted time to relaxing with Jean at their Villa in Cyprus, purchased in 1990. This became a thrice annual trip.
Jean and Fred also returned to their globe-trotting roots, but this time, as a couple seeking to occupy their precious time together, travelling the world visiting new stunning locations and re-visiting old haunts from Canada to New Zealand, Singapore to Nepal and Alaska to The Philippines, as well as many short day and weekend trips within the UK and Europe.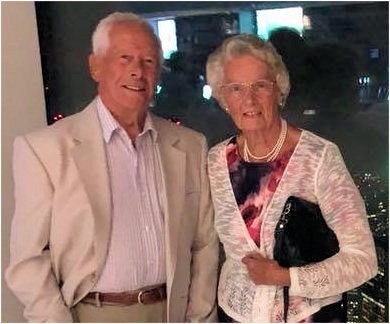 Box benefited enormously from Fred's experience, skills and time, which he provided with great generosity, mostly unseen and unsung. His passing has left a huge void in both family and local life Box and Sorigny.
In memory of Fred
Donations in memory of Fred for the RUH Forever Friends Appeal, William Budd Ward, can be made online here where your generosity can be increased with the benefit of Gift Aid (See the UK Government web site at https://www.gov.uk/donating-to-charity/gift-aid).
They may also be sent care of Aaron Bewley of AJB Funerals, 57a Pickwick Road, Corsham, SN13 9BS.
Note: You can download a PDF version of this page here – Fred Sheppard Obituary (English)