April & May 2023
Latest event soon !!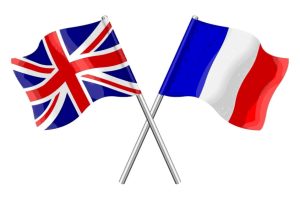 Vendredi 16 Juin
Halle de Sorigny 
À partir de 16h30
Tea Time et Jeux Anglais (16h30/20h00)
Apéritif  Français et Jeux Anglais (18h30/20h00)
jeux pour tous les âges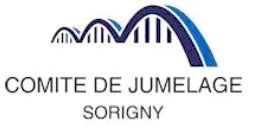 English
Friday June 16 Hall of Sorigny From 4:30 p.m.
Tea Time and English Games (4:30 p.m./8:00 p.m.) French Aperitif and English Games (6:30 p.m./8:00 p.m.)
games for all ages
2023 Videos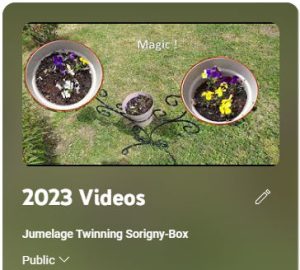 A new video has been added to the media library – see 2023 Videos including : Spring in the Touraine 2023 / Printemps en Touraine 2023. See also your media page : https://sorigny-comitejumelage.com/media/ More videos to come in due course.
Upcoming News
Box and Sorigny Twinning Association : Sorigny CDJ visit to Box during 21-25 April
CDJ 'Tea time' + apéro Friday                  :
16:00 – 18:30 16th June
More details soon…
————————————————
March 2023
First of all it is an appropriate time for your website Administrator to offer an apology – an apology for not providing any news since late in 2022, following the very successful visit of Jane Cox (Chair) and members and supporters of the Box Twinning Committee. Further, the end of 2022 and the start of 2023 were not celebrated as in previous years with a short, festive video as in previous times.
There were many reasons (or multiple excuses, depending on your point of view) but the net effect was little communication via the website to our members and supporters, which we regret enormously and ask your forgiveness.
There was however, some excellent communication between the Box and Sorigny Twinning Committees which has enabled new friendships, the new 'Bureau' to be established and the start of discussions to organise cross-channel meetings between those in France and those in England. It is now planned to have a visit to Box by Sorigny members in late June 2023. [ Note : In France we use the words 'Bureau' or 'Conseil d'Administration' to refer to the Council of advisors / leaders / directors / chair (person) / 'administrator / accountant of the ruling Committee of all the (paying) members and (non-paying) supporters ].
2022 Videos
More videos were added to the media library – 2022 Videos including :
11/11/2022 Jour de Souvenirs / Remembrance Day
05/11/2022 Guy Fawkes party in Sorigny
01/10/2022 Nuages en Touraine (Clouds in the Touraine with some special effects)
06/11/2022 Inauguration of La Halle in Sorigny (The hall for the market every Sunday)
Box People & Places
Alan & Carol Payne have produced a new issue of their marvellous history of people and events in the Wiltshire village with which Sorigny is twinned.
As you know, the website is in English so we have produced some initial help by taking the images and text from the current front page (only), translating its text and making it available to you in both languages as a PDF document. Further below we are also providing some help with using Google Translate, so you can translate from English into French (or many other languages) so you can really appreciate the Box People & Places website !
Click on Modern Box Spring 2023 Issue 39 to go to our introductory page of Box People & Places.
Modified Dropdown Menus on our Twinning website
To make it easier to find the details of the Box and Sorigny Committees we have modified some of the menus.
Modifier
Menus show hierarchical introduction to the Sorigny Committee and a gallery of the members, followed by further links.
Menus show hierarchical introduction to the Box Committee and a gallery of the members, followed by links to Box People & Places.
The menus show the activities of Box and Sorigny by year.
Lost in Translation ?
We have links on our Twinning website that lead to an all-English website : Box People & Places. So what do we suggest for our supporters whose English is not fluent, or even non-existent ? The answer is surprisingly simple – Use a translation website, for example, Google Translate. Try this easy little sequence of steps:
In your browser (Google Chrome or Microsoft Edge), go to http://www.boxpeopleandplaces.co.uk/# . Currently you will see this:
 Scroll down below the first photo to see the text:
« A brand new series brings Box's history up to the millennium and slightly beyond. We start with Notable Residents in the ​post-war period, some of whom are shown above including Kath Hayward, David and Irene Dean, Eileen Mackinlay, ​Vicar Tom Selwyn Smith, Joan Ford, Joan Osborne and Olive Currant at Box House in May 2000 (photo courtesy John Currant). »
Select all the text using your mouse – the text then shows not in black text on a white background, but white on a coloured background:
Click the right mouse button and select 'Copy'. Now, you need another tab in your browser – just click on the + (plus) sign after your last tab, to add a new tab.
Type into the address bar at the top of the page https://translate.google.fr/ (or https://translate.google.com/ if you are in the UK). The screen will look like this:
You can allow Google Translate to DETECT LANGUAGE – it will select English.
Click in the DETECT ENGLISH section of the screen, then click the right mouse button and select 'Paste' to paste in the English text. Almost instantly, the translation appears in the right hand section of the screen. You can now read the text in French.
You can do more if you wish: 
– Click one of the speaker icons to hear the original English or the French translation.
– Click the copy icon (1st icon on the right of the French translation) to copy all the translated text: you can then paste it into a Word (text) document if you wish to save your translations for later).
– Click on one of the thumbs (up or down icons) to tell Google that is an understandable translation.
– Click on the Share icon to send the translation to someone by Email or Twitter.
 Before you copy the next section of text, click the 'X', top right in the English section to empty it ready for your next selection to be translated.
So – go and visit other websites in other languages as well – see what they are saying about, for example, foreign news of wars, floods, fires, or the latest art, music or films. There is a world of information out there in many languages – but now – YOU can deal with it !!
Note
If you already knew all this – great – carry on ! But often, this is all that a quiet, intimidated person or anyone who simply didn't know, needs to learn, to take advantage of what is freely available ! Let's be kind and tolerant in 2023.